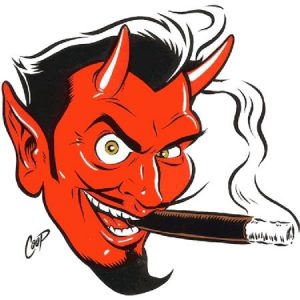 Marketing = Making Change

Like most things in life, marketing methods change over time.
Marketing in the 1960's was different than marketing in the 1980's and marketing in 90's is certainly different than marketing in 2019.  Way different.
When I sat down for a meeting with the GM of a popular restaurant, he was quick to point out that he held a marketing degree.  He wanted me to know that he had marketing-chops and would have a firm grasp of the subject at hand.
Turns out, he earned his Marketing Degree in 1990.
Here's the disconnect: Yelp, facebook, and Google hadn't been invented yet.  In fact, the internet didn't become publicly available until August 6, 1991.  The internet browser wasn't available until 1993.
In 1990 you could get the attention of millions of people with one ad because they were all watching Seinfeld, The Cosby Show and Cheers.  Now people are watching Netflix, YouTube and scrolling facebook mindlessly.
Marketing evolves with the lifestyles and needs of the consumer.
We could spend days discussing the history of marketing and changes that have occurred over the years.   That would be fun for me, but boring for you.  So, I'll keep this conversation moving.
Marketing is not advertising.
Most people mistakenly think of marketing as advertising.  A mix of TV, radio, magazines, billboards, banner ads, etc.  Advertising can be a part of a marketing mix, but it serves a distinct role.
Advertising is a game of attention – you beg, steal, and interrupt people to get their attention.
The problem is, it's becoming less effective by the day.  Ads are something you skip, if you can.
Author David Shenk suggests that the average person is exposed to more than 3,000 advertising messages per day (up from about 500 in 1970).  Most of it could be classified as irrelevant and meaningless information.
How many ads do you recall from yesterday?
Close your eyes and try to specifically remember yesterday's most impactful ads.  What do you remember?  The answer could easily be: none, zip, zero.
I'll give you the benefit of the doubt, maybe you remembered three.  OK…what action did you take, or action will you take in the future as a result of those ads?
The reality is, most traditional advertising for small and medium sized budgets don't produce results.
Trying to create awareness and recall with ads (image advertising) is tantamount to burning money.
So, what is Marketing?
You want the boring institutional version?  Here's a Wikipida link.
You want the sexy, modern, Michael Druce, just for the Yoga Assets community version?  Here's what I think…
Let me set the stage a little.
I facilitated a discussion on marketing at a Yoga Assets event.  I asked the 15 or so yoga teachers in the room "what does Yoga mean to you"?  Would you be surprised if I told you that I got 15 different answers?
Marketing is the same way.  In preparing to write this post, I found 78 distinct and different definitions of "marketing".  I felt a personal connection to about six of them.
I have read more than 200 books on the subject of marketing.  I've read thousands of magazine articles and blog posts.  I've been in the business of marketing for 35 years, serving in business sectors ranging from hotels, travel, health clubs, restaurants, bars, breweries, real estate and yoga.
I'm a marketing junkie. I love it more than you can imagine.
Why?
Because marketing is about Change.  It's about the change you want to make in the world.
It's about making things better. Making better things.  Doing better work.
It's not something you do to people. It's what you can do for people.
My WHY is:  "To inspire people to what's possible, so that together, we can create extraordinary outcomes."  One of the ways that I do this is by helping small businesses make meaningful changes in the way they do business to better serve and attract customers.
It doesn't matter what the change is, I can always tie it back to better marketing.
Marketing for Nice People and Misfits
I distinctly remember when I turned a corner and began living into a new marketing philosophy.
I realized that most people are just following the crowd and doing what everybody else is doing.  The prevailing assumption was that if everyone was doing it, it must be working.
Then I came across the work of Tom Peters and later Seth Godin.  These two guys were going against the grain and creating chaos in the world of marketing.
It was love at first sight.  The Teacher had appeared.  My eyes were opened to a new dimension.  I began to realize that marketing is in everything and everywhere.
From Peters, I learned that marketing is not a department.  It's in the details; it's in the products; it's in the relationships; it's in the purpose; it's in every point of contact imaginable.  It's baked into the THING.
From the Godin I learned that empathy, service and generosity are the cornerstones of marketing for nice people.  Great marketing is nothing more than a contemporary version of The Golden Rule.  He taught me about tribes, trust, tension, permission and being remarkable.
Then comes Brian Clark in 2008.  A master of the internet medium who channels Godin and combines his marketing ethics with teaching and sharing as foundation for building trust and making sales without selling.  The slimy, quick, hard-sale is out.  It's all about getting people to know, like and trust you -over time- until they are ready.
 Marketing is both a process and a craft.  It can be learned.
I believe that yoga teachers and fitness instructors have a gift.
Marketing is how you bring that gift to others.  If you are not marketing your gift, you are withholding it unfairly from someone who needs it.
Not all marketing is evil.  Some of it is.
Some marketing can be beautiful. Like when it sells something to someone who discovers more joy and a better health.
I'm a marketing teacher.  I can help you bring your gift to the world.  
I can teach you a new view of marketing that is congruent with yoga ethics and will give you a firm foundation for bringing your gifts to others in a way that is honorable, helpful and attractive.
If your committed to serving others – putting in the hard-work and emotional labor – this new way of marketing will grow your classes and expand your influence.
I'd like to help you.  I'd like to hear what your needs are.  What challenges are you facing?
Want to keep learning? Join me for an enlightening discussion about Modern Marketing and The Business of Yoga.  Opt in to my list and let's stay in touch.
No Fields Found.