Want to learn more about what you should be looking for in a Yoga Teacher Training program?
Listen to this thought provoking 50-minute conversation with Denise Druce or download the PDF transcript below.
Looking for Yoga Teacher Training programs in Utah? Or, wherever you may be in the world?
Maybe you're considering one of the many discount online yoga teacher training courses that are taking advantage of the relaxed "in-person" training requirements of Yoga Alliance.
Is a cheap, self-paced 200-hour yoga teacher training course the right decision for you?
Well, that depends.
Do you want to be a mediocre teacher, with an average grasp of Yoga principles? Or do you want to become a proficient yogi who can lead and help others? This is really the question you should be asking.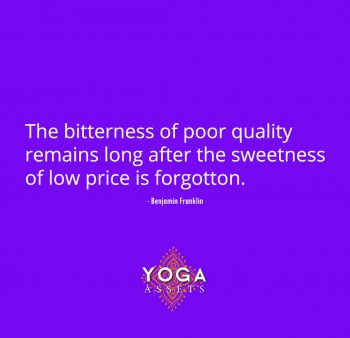 There is a large gap between knowledge and skills. The gap is based on what, and how you learn.
Knowledge is 'theoretical'. You can gain knowledge from books, videos and note taking. You can easily pass a test with knowledge.
Skills are 'practical'. Skills are the application of knowledge.
The bridge between knowledge and skill is practice.
Mastering a skill takes deliberate practice and feedback. And in most cases, it requires a mentor.
Will you become an advanced yoga teacher by reading books and watching videos? No, of course not.
That's not to say that you won't learn something – you will. But your skill level will be inferior to someone who actively engages with a mentor and interacts with other students.
"Live" online learning is better than self-paced learning in terms of improving your skill level.
Getting personal guidance and feedback from your instructor, in real-time, makes a huge difference.
The ability to break into small groups and interact with other students makes the journey a shared experience that builds confidence and trust in the process.
We too, had our doubts about moving our yoga teacher training programs online during the pandemic.
Amazingly, we've been blown away by the results we are getting.
The bottom line is this:
While we certainly miss the energy of having other humans in our midst, we could never have imagined the success our students are having and the friendship and personal bonds that are being created with our "Live" online yoga teacher training programs.
The convenience of being able to train from our own personal space has proven to have many advantages. Fortunately, we don't have to sacrifice the quality of the learning experience that Yoga Assets has become known for.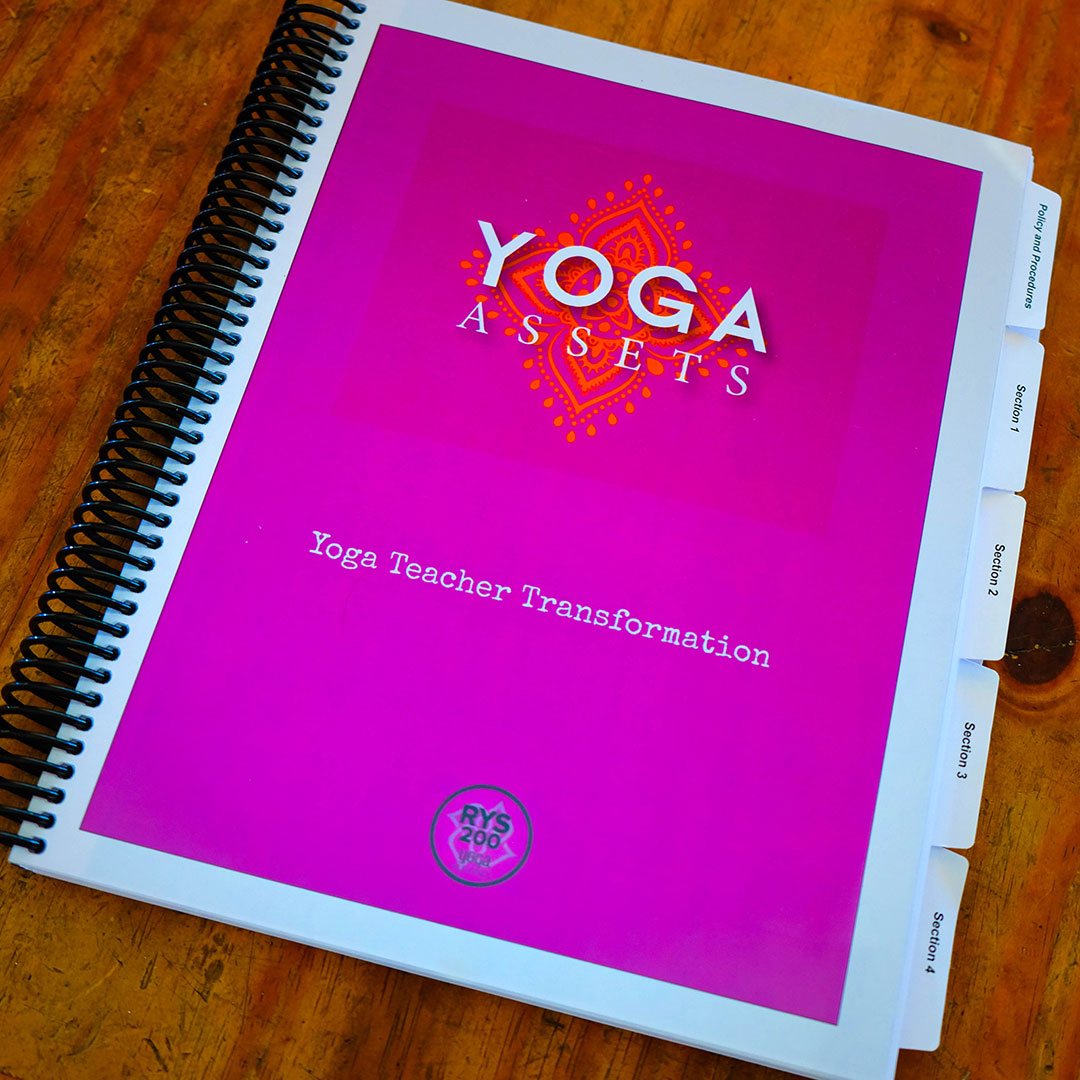 Michael: Hi, this is Michael, and today, I'm with Denise Druce of Yoga Assets in Salt Lake City. We're going to have a conversation about Yoga Teacher Training. Our intent is to get some questions answered for people who are evaluating yoga teacher training programs. In this day and age, more than ever, there is a wide discrepancy of programs being offered out there, and we're hoping we can bring some additional clarity to you today to help you make the best decision that you can for your money.
How are you today, Denise?
Denise Druce: So good, Michael. Thanks for having me on as your guest. [chuckles]
Michael: Let's jump into this Denise. We are married, [chuckles] for those of you that don't know.
Of course, I've known Denise for 30+years and operated a few fitness centers together for many, many years.
Denise, you are very focused on yoga right now. I wonder if you could explain to people a little bit about your experience in fitness and your transition and specialization into yoga.
Denise: I'd love to. I've, as you know, been in this industry a long time. This year it will be 40 years.
When I really dial down to, why do I do this, why do I love this, at the core of my being, I love helping people feel better. I really love helping people gain the confidence that comes from moving their bodies and being more comfortable in their skin.
20 years into my fitness career, I had this opportunity to do a yoga training, and it was just another tool in my tool belt. Just another thing I could teach alongside a spin class and a step class, but yoga has a way of moving in. It has a way of taking over and moving into the places of your life, where it's needed most.
Through the years as I taught yoga, I started to notice that it wasn't just physical exercise. For me, it was very much about how my mental health was influenced by yoga.
It became a spiritual practice for me. It helped me get through breast cancer more than anything I've ever done. As each of the big life events came along, I leaned into yoga more and more.
Now I see yoga as a great tool for helping people. People who are looking to relieve stress, people who can't sleep well at night and people who struggle with a lot of anxiety.
Right now we live in a time when we're all trying to boost our immune system. Yoga has some wonderful practices that help with immunity.
It helps counter depression. I keep leaning in more and more because it's just so beneficial and I honestly think it offers something for everyone.
Michael: You and I have had several conversations about the title, "Yoga Teacher Training". On a couple of occasions, we've even considered just flat-out changing the name of the program to "Advanced Yoga Training".
But in the age of search engine optimization and knowing what people are actually looking for, "yoga teacher training" is predominantly the title that is applied to these types of programs.
What's the difference of terminology to you and why the struggle to determine what to even call it?
Denise: I really don't know why it is. It is what it is.
It's known that if you want to go beyond the one hour in the studio and you want to learn more about yoga, really, it's the only thing that's out there to help people take that true deep dive.
What we've learned through our time in this business is that if you want to learn something, you have to teach it.
It doesn't bother me that that's in the name, yoga teacher training. Whether someone wants to be a formal teacher; they want to help their kids be more mindful, or they want to help their partner or the people they work with. We all become teachers, so we keep the name, but it definitely does scare a few people away.
I think if we called it advanced yoga training, I don't think it would be honest because we really do ask people to teach in this program as way of learning.
Michael: Off the top of your head, if you were to make an estimate as to the percentage of people that come into this program with the intent on becoming a yoga teacher versus some other avenue of say, just wanting to deepen their practice, what do you think those numbers are?
Denise: We have graduated over 800 people in our yoga teacher training programs and I would easily say that half of those came in with no intention of teaching. They just love yoga and they wanted to learn more and spend the time learning how to do their own practice more safely.
Michael: Got it.
If I'm a frequent participant in yoga classes, and say I've been at it for a year or two, is there a limit from what I can learn from just taking yoga classes?
Denise: There's probably no limit.
I would advise you to bounce around and take classes from a lot of different teachers and take a lot of different styles of yoga. You will come to a point where you're hungry for more than they can give you in that hour.
Even your favorite teacher, if they change it up every single class, you'll get to the point where you want an immersion.
You want to sit in a group of people who are all committed to learning more, and so I think that's how people find their way to yoga teacher training.
Michael: People come to yoga teacher training programs for different reasons. For some, it's to deepen their practice, others it's to just make an investment into themselves.
There are those that just want to broaden their understanding of yoga and the philosophies. Some people are really interested in lifestyle changes, others might see it as a way to get personal attention and personal training. Some want to become yoga teachers.
Let's talk about each of these categories a little bit and how people can be fulfilled in those categories.
This is under the presumption that maybe I'm signing up for a yoga teacher training program, and I'm not sure if I actually want to be a yoga teacher, but some of these other areas that I've just brought up are of interest to me.
Tell me a little bit about how you think people can be fed in these programs to achieve these outcomes.
Denise: In our experience, in a group of 12 or 15 people, there's one of every person you just described.
The way we offer our programs is, we call it the buffet style and we're going to put a bunch of great stuff out there, and there's an invitation to take what serves you right now.
As we get to the sections about learning styles; finding your voice in a group of people; and the things that are real specific to teaching yoga, those students that are really there for their own practice always participate in the conversation. But they generally find areas of their life and profession to apply the learning to.
Our curriculum stays the same, regardless if someone has come in because they've had a life crisis and they just want more yoga in their life, or the person that wants to open a studio and become an effective yoga teacher, the curriculum is the same.
The students get to choose which pieces they adopt right away and which they set aside for later.
Michael: As you described this, it sounds like that would make for some interesting dynamics.
Is it something that flows well with you when you get people coming from different directions like that? Is it a good experience in your opinion?
Denise: It's a fabulous experience for me, the facilitator. You know me, I love the dynamics of a group and nothing would be more boring to me than a homogeneous group where everyone agrees and it's all the same.
I really love hearing these voices that are coming with different life experience and different goals. At the end of the day, we all want to be elevated. At the end of the day, we all want to be inspired. We want to walk out of a room better than we walked into that room and I've just seen these programs work for that very reason.
Once people start to know each other and trust each other, they each get what they came for, but they also give a little piece of what they have.
We always say, you end up in the program you're supposed to end up with. There's someone in this circle who has a piece to your puzzle, and just stay open to that. Stay open to that connection because you're going to make it and it happens every single time. People make all kinds of connections.
Michael: That begs the question as to how proficient someone needs to be in yoga to participate in a program like this?
If people are coming in from all these different directions, how much yoga do I need to know to be comfortable in a program like this?
Denise: Well, it depends on if you're thinking of yoga as asana, which is the physical practice, or if you're thinking of yoga as a word for, connection or uniting... more of the philosophical side of it. But my answer is the same to both, no experience necessary. That's why you're here. That's why you come into this program to learn something that you didn't know before.
On the physical side, I've had several students that have never done yoga before, sign up for a 200-hour training. Why? Because they want to learn yoga and they want to learn it for real, in a very in-depth way. They don't just want to stumble into some class.
It works for the zero-experience person. It really works well for advanced people, but I'll say that sometimes they have to unlearn some of the stuff that they came in with in order to learn something new.
Michael: You point out the differences between asana and other areas of yoga philosophy. Expand on that a little bit for people who may be listening that are under the assumption that they're going to learn 400 yoga poses. What's in this program that they may not be anticipating?
Denise: I'll give away the big secret right here.
The yoga that we study, we study a lot of different aspects of yoga, but the one that's most used here in the West is the Yoga Sutras of Patanjali and it's the eight-limbed path of yoga. Only one of those limbs is asana. Only one of those limbs is the physical practices.
On the first day of training, you'll hear me joke that this beautiful tree grew in India thousands of years ago, and this one branch broke off and it made its way to the West and we think we have the whole tree. Well, really, we only have one branch.
In this training, you climb onto the tree and you learn about the other seven branches...and they're so vast and so beautiful.
These other branches are about how we relate with other people in the world, our relationships, the way we are in community.
They're about our relationship with our higher self, our most authentic self. They're about the way we breathe and the practice of meditation. All of those get added on to the asana practice and then it becomes this big, beautiful lifestyle really.
Michael: There's an organization called Yoga Alliance that sets standards for the yoga industry. Some schools register with Yoga Alliance and they develop programs that are designed around the curriculum requirements for Yoga Alliance.
When COVID hit, it changed everything. Studios and schools had restrictions imposed upon them that determine what you can do in person, and how many people you can have in a room.
As a result, Yoga Alliance relaxed their in-person training requirements to accommodate the circumstances and it launched an online yoga training business that did not exist a year before.
Like all things, that could be good and it could be bad.
Let's talk a moment about what those standards are for Yoga Alliance; why it's important to you, and what happened in the last 12-months that was different than the standards you had to adhere to prior to that?
Denise: Well, let me unpack that a little bit with a comment I saw today on Facebook.
Our tuition for the 200-hour program has always been just under $2,000. In every community we go to (we're in seven states now) we are generally the price leader.
Prior to COVID, there was this perception of, "Wow, that's a great deal. Many studio based are charging $3,000 to $4,000."
Then COVID hit, and Yoga Alliance relaxed their standards online. The discount programs starting coming out of the wood-work.
We transitioned online very quickly. We didn't change our price because we still do the exact same thing we were doing...we just do it on Zoom. There's a trainer with you every single second of the 200 hours, it's just on Zoom.
I'm looking over this Facebook post and someone recommends our program and someone else comes along and says, "Geez, that's expensive," and posts a $200 program.
That's the perception that's in the mind of the consumer right now, "I can do this now for $200".
That's a big conversation that we need to have. What do you get for $200 versus what do you get for $2,000 or $3,000 or $4,000?
I can justify that all day and I'm sure we'll come back to that.
Your question was "what are the standards that have changed with Yoga Alliance this year"?
The only thing that's changed with Yoga Alliance really is that they've allowed us to take our businesses to a virtual format. They still have a requirement for contact hours and non-contact hours. We've just kept our program exactly the same. Our whole program is contact hours.
The discount programs are showing videos and doing a weekly "group call" and passing that off as contact hours. Sadly, the learning experience inferior and is not in the spirit intended by Yoga Alliance.
Michael: When you have an online training program, what does contact hours look like?
Denise: That means your trainer is on the screen with you. It's real-time. You can unmute your microphone at any time.
There are group discussions, there are breakout rooms, there's post breakdown. There are live practices.
It's exactly like being in the room together with the exception of, you're not in the room together, you're on a Zoom screen.
We have students from all over the country coming together for these classes, but they're as live as you can be without physically touching another person.
Michael: There may be some listeners that wonder, again, how effective is "live" online training versus everybody being in the same room, or in the same studio?
Denise: I feel like I'm able to offer everything I could in person except for the hands-on assists, that's really the only one-- That's not true, there are probably two things that are missing, the hands-on assist and just that feeling of energy that you feel in a room full of people, like the physical experience of being together.
We all miss that, but in exchange for that, we've gained a lot of things that we didn't have before.
First of all, our audience has widened.
We have a student in Virginia, we have a student in Arizona, we have a student in California, so we can pull people from other parts of the world together and have a richer experience because of that diversity.
I think the platform we use (Zoom) allows us to do a lot of things that I could never do in live training, like put two students together in a breakout room and have a private conversation. Then you bring that back to the larger group. We've had a lot of fun with those.
We also have recorded a lot of our sessions and now we can provide those recordings for our students after the fact.
They can go back and revisit what they heard that day or week, month, whatever, and just refresh their learning instead of it just being a one and done. We've never done that before in person.
Michael: It's been my experience that even Zoom has its own energy dynamic, especially with everyone being confined and in their spaces.
Have you found that your students are surprised how much fun they're having, and how much they're learning on Zoom versus meeting in the classroom?
Denise: Completely! Because our trainings are 10 hours, Michael. We go from 8:00 AM to 6:00 PM and that's a long day.
I'm just thinking of Stephanie, our student in Virginia. That means she goes from 10:00 AM to 8:00 PM. When you look at that registration, you're like, "Oh my goodness, am I going to be able to do that 10 straight hours?"
Every single student says to me, "I cannot believe how the time flies".
We take a lot of breaks. We ask people to go outside, get fresh air, and nourish themselves.
Everyone's in their home so they get a chance to run to the kitchen, get something to eat, check on the kids. It's less stressful I think in a lot of cases that people are in their comfortable environment.
Yes, they report always that they can't believe how fast time goes and the love the connections they make with other people, even on a screen.
In every class, there are tears. There are just tears at the end of the day of people just really connecting on that emotional level. It's pretty beautiful.
Michael: I recently had an experience in an online training where we actually had people from different areas of Europe.
You're exactly right, you feel like you have a connection with somebody that you just didn't have before.
Denise: It might even be better in some ways than in person because you literally are right up face-to-face on that Zoom screen. When we're in a large room, people tend to get against the wall. They like lean back. By the end of the day, people slump down, and they're tired.
On Zoom, you have to be right there and engaged at the edge of your seat, so that's an interesting dynamic as well.
Michael: Let's talk a little bit about some of the differences of these programs. Let's face it, we all know that the $200 program is not going to be as engaging as far as instructor and student communication as a program that is $2,000.
At $200, you have a organization that has put a video online and that video is being reviewed at your convenience. That's convenient, but you're isolated in the viewing of that video. What impact do you think that has?
Let's compare the online video training, meaning "it's in the can" (not live), versus what you're doing. What significant differences have you noticed about the framework of those programs?
Denise: I would say that you have to be a very, very motivated, and a self-driven person to be able to watch the videos, and hold yourself accountable to reading the books, taking the quizzes, practicing, and turning around and teaching others.
To what extent do you leave that experience as a good teacher?
I'm not going to doubt that there are people out there that are that driven, I'm not one of them. I'm just not, I need accountability. I think most people benefit from accountability.
I need to report to a teacher, a professor, or someone that I look up to. I need deadlines. I need accountability. I need conversations. I need feedback about my performance and how I'm teaching.
I can't imagine that a school could offer that for $200...and they don't.
I guess it just depends on your personality. What I would do if I was taking that course is to try and multitask while the video's going. I'd be doing three other things at the time.
Then what would I get from that? Not very much.
Michael: It's certainly not immersive, by definition.
And let's face it, we know the history of online learning to date.
It's a billion-dollar industry and appears to be very successful. Yet most people are not aware of the statistic that on average, no more than 15% of people who register for a online training program, (that rely on videos, PDFs, and books) don't finish the program.
That's an 85% dropout rate!
It really has to come down to what your expectation is for this program.
Because if you truly intended for this to be a lifestyle change; if you truly intend to teach others, it's just not going to happen by watching videos and reading books.
I want to add to that- we understand the science of learning.
Let's just look at the learning pyramid:
At the small tip of the pyramid is "lecture", followed by "reading". The retention rate is next to nothing (5%-10%).
Then comes "audio/visual (20%) "demonstration" (30%), "discussion" (50%), "practice/ doing" (75%), and the ultimate - "teaching others" (90%).
Help me unpack that a little bit as to what you think are the learning benefits and how that might equate to the discussion.
We're comparing the $200 program versus a $2,000 program.
Denise: We do all seven things on that list. We do all seven of those with every topic in our 200-hour program.
Let's say we are going to talk about the rotator cuff in the shoulder and how that's the most common injury in yoga today.
I'm going to start with a short lecture. I'm going to talk about the idea. I'm going to give the students a few paragraphs on the page to read, and we'll take turns reading those. I'll probably show a short video because if you see a video, you're going to remember that more than me talking about it. There's a visual.
Then we're going to demonstrate, and we're going to get everybody up out of their chairs. We're going to say, put your hand here, put the block here, do this thing.
Come back to the screen. What did you feel? We're going to open it up to our students to talk about what they felt and what their questions were. Then we're going to practice doing that together and teaching each other.
You've gone through that whole pyramid. We hit every single way of learning and the retention is huge.
Let's go onto the knee now, let's talk about how to keep the knees safe in warrior 1, same thing. Talk about it, read about it, watch a visual.
You cannot do that in a 200-hour video program. You don't get to those retention levels of learning.
You get to the point where you are just trying to cram a bunch of stuff in your brain.
Let me ask you this,: what do you remember from 10th-grade anatomy class? If I asked you to regurgitate the names of bones, ligaments, muscles, and tendons right now, you probably couldn't say very many other than the ones you use on a regular basis, right?
We're cramming information into people's brains, but they have to teach and speak about it to get it solid.
Michael: I do think it is the difference. The ultimate retention rate is at the level of teaching others. That's where the learning sets in. That's 90% retention rate.
You learn something, then you turn around and you teach it to others, and it actually sinks in for the first time.
Let's go back to the question that we started with. Some people are coming into this program with the intention of teaching yoga to others and some do not. But in the end, that's how everybody learns, right?
Denise: That's been my experience. I've always said if you want to remember something, teach it to three people, whatever it is.
You learned a new cooking skill, you learned how to train your puppy to do something, vocalize that, tell three people what you learned and you'll never forget it.
We capitalize on that in this program when we ask people to go home and talk to the people in your family, call your mom tonight, call your best friend, your neighbor, tell them what you just learned about this breathing technique and it will solidify the learning.
Michael: For those that think, "Oh, there's no way I can be a yoga teacher, but I definitely want to expand my practice." You shouldn't be intimidated by this because you can teach your kids. You can teach your best friend, you can teach your mom.
If you truly value the benefits of yoga, which you do, and that's why you're listening to this program, then you're intrinsically obligated to sharing the benefit with those that you love.
Denise: Right! I guess I'd get a little more pushy here and I would say, why are you holding this back from the people you love?
I would ask my students, why are you letting your fear get in the way of you helping your husband sleep better at night, or your child have less anxiety at school, or maybe even all the kids in your kid's classroom have a better learning experience?
Why would you not want to share that?
The word "teach" scares people away. So, let's replace it with the word "share"...a yoga sharing program. Okay, fine, share yoga with the people in your life.
Michael: That's right.
It's not just the word "teaching" that scares people. Sometimes you've got yogis in the yoga industry who will scare you as well. They will take a stand that you're not even prepared to teach at 200-hours.
Your program has people teaching right from the beginning. Tell us more about that.
Denise: [chuckles] I think it's sad that there are many yoga teacher training programs who don't let anyone teach until they've graduated from their 200-hour program.
That's so backwards to me. I get the safety thing, but the thing we're asking people to teach right away is having someone sit with you for three minutes and try this breathing technique?
No one's going to injure anybody with a breathing technique.
Can you lead someone through a simple flow, like child's pose cat and cow, and a forward fold, right? We can all do that safely, and we start right away with alignment principles that keep people safe.
Yes, I hear that a lot and I think that's a little high and mighty. I would say don't go try to teach someone a handstand if you're just learning child's pose.
We give you really clear guidelines of how you can do that safely. Again, when you teach, you learn.
Michael: Denise, I've learned that yoga really is a journey, and every moment that you spend practicing and every moment that you spend learning and immersing yourself in the philosophies of yoga, the more you grow.
At the completion of a 200-hour program, where does that leave me as a Yogi in my journey?
Denise: This is not going to be a motivating thing.
It's going to leave you knowing how much you don't know. [chuckles]
I value that so much. I love when I learned something that helps me know how much more there is that I still need to learn.
If you look at this floor right here,: Michael and I are looking at a wood floor, and you take that knot of wood right there - that's how much you're going to learn in a 200-hour program compared to the whole floor, which would represent all there is to know about yoga
Come back and do the 300-hour program and I can give you that board right there. Come back and do a 1,000-hour program; become a yoga therapist, and maybe a section of the floor.
But life is long, God willing, and that's what we're here to do, is learn and grow. We're just going to scratch the surface with this. We're going to give people some concrete tools, but by no means, will you know it all at the end of this program.
Michael: Yoga, (asana, in particular), can be taught in different styles.
What style do you teach at Yoga Assets and what consideration should I have when I'm evaluating programs in terms of what style of yoga they're teaching?
Denise: If you ever hear the term Hatha Yoga, it is a general term for any physical practice, any practice that you do with your body that gives you physical benefits.
All of these other styles of yoga fall under the category of Hatha Yoga, and ours certainly does.
We teach in a style called Vinyasa and that word means "flow". It means to connect together.
Poses flow together in a Vinyasa class. If you think of some salutations, that's an example of a Vinyasa-style class.
If you are really drawn to something like Bikram, the hot yoga that's 26 specific postures, it's the same thing every time. You'll get a taste of Bikram in our program, but you certainly won't be Bikram certified.
We bring in teachings of Iyengar Yoga, which is very alignment-based, but you won't be an Iyengar teacher when you leave our program. You'll know a little bit about it.
I would say that if you really are drawn to one specific style of yoga, then maybe we're not the best program for you.
We're teaching yoga that you can take to the masses. We say, 'Teach Yoga Everywhere'. This style of yoga is a yes for everyone. We offer a lot of modifications and we've found this to be the easiest entry point for the most people.
Michael: Your tagline at Yoga Assets is 'Teach Yoga Everywhere'. You're trying to introduce people to that fact that there is an entire world of yoga outside of the studio.
In your case, you have students who are teaching in schools, they're teaching in their churches, and they're teaching in their places of employment.
How does your program set the student up for their next experience as a teacher?
Denise: On the first day of yoga teacher training, we're going to show you a video, a story of a man named Arthur, who was a veteran that was injured in service and he was told he would never walk again.
Through his practice of yoga, he reclaims his body, and he reclaims his physical fitness. He really reclaims his life.
I asked my students on day one to think about the Arthurs' in their lives, who could really use this. With that as our target audience, we say, how can we make this pose a yes for everyone?
Instead of demonstrating this beautiful pose that a bendy body can do and saying, "If you can't do this, you can modify by grabbing a block."
In our program, we're going to say, what's the version of that pose that everyone in the room can do, and then let's layer up from there.
Let's give everyone an equal place to start and then suggest that if you'd like a little more challenge, go here.
That's really it, Michael. That let's make it a 'yes' for everyone gives you the ability to go to your church and teach to the folks that you worship with. To go to the kids or the teachers at the school.
We teach in the prisons, we're working with the BIPOC community. This practice is for everybody and we really do have to make it, make the poses fit every different kind of body.
Michael: As you're describing that, Denise, I have in my mind two different approaches to teaching.
Again, this goes back to our initial question, which is: "why do you want to join a yoga teacher training program?
If you are trying to change your profession, or you're trying to subsidize your income in some way, what I'm hearing is that in a studio, you are more limited. You've got a certain number of teachers and a certain number of classes, and that's it.
What Denise is describing is, what I see as the ultimate opportunity: 'the world is my oyster'.
I can teach yoga anywhere. I might teach at my church for free, but in my place of employment, I might have a fee that I'm charging either to my employer or my fellow employees.
I hope you're hearing this.
This is a very different approach to than what you might be envisioning in a studio-based training program.
Denise: Let me jump in on that and say if someone is listening to this and they want to teach in a specific studio, you probably should do the yoga teacher training at that facility, if one is offered. They will likely have a bias towards their own students when it comes to putting you on the schedule.
Our program, is more universal. That really is something that you want to consider.
We are here to train people, to teach everywhere; in gyms, in community centers, outdoors, parks, corporate boardrooms. Of course our students teach in studios as well. We just don't box you into a 'corporate' way of doing things.
Michael: Excellent. In fact, Denise, you mentioned fitness centers, that didn't cross my mind as I was covering the other opportunities for where to teach.
You actually love teaching and fitness centers. Yet, there are some yoga teacher teachers who poopoo what they call "gym yoga". "Oh, if it's not in a studio, it's not good yoga." What's your experience?
Denise: I was a Master Trainer at 24-hour fitness for about 15 years, until the local gyms closed here. My classes were packed.
I absolutely love it and one of the things I love about teaching in a gym is in almost every class, you have a first-timer. It's a privilege to get to be someone's first yoga teacher.
That's making me a little teary right now, but that's such a beautiful place to stand, to have that opportunity of exposing someone to yoga for the first time. Taking care of them, and making it a safe space so that they come back. I don't always find that in the studios.
I find that people come to gyms or the free classes in parks, or maybe even now in their homes, and they eventually find their way to the studios.
Studios end up being full of more intermediate to advanced students.
As a teacher in those settings, I just personally don't find that quite as fulfilling as getting the newbies. The people that are nervous to come in. "I'm not flexible enough, I don't look like this,", etc. I love being their first teacher.
Gyms can be a mess. They're sometimes dirty and they're noisy and the lights are bright. But it's amazing the connection that you can form with just the intention to change that space for that hour.
Michael: I'd like to take a moment to ask questions specific about your training program and about your business.
Denise, how many students have you trained to date?
Denise: We have graduated just over 800 students to date.
Michael: What's your relationship with those students, and what's the relationship amongst the students? Do they stay in touch?
Denise: They do.
The first question you asked, is what's my relationship. I love to step into a role with my current and former students as a mentor, a guide, and a support system.
I offer myself. Everyone has my personal contact information. Not a day goes by that I don't hear from one of our graduates with just random questions.
It can be about teaching, something about their business, something about Yoga Alliance, an injury someone has... that's the role I play and I love it.
We also have a really unique offer. The moment you register for one of our programs, you are a lifetime member of the Yoga Assets family and you have a lifetime invitation to come back and visit any training, any time.
On every single Zoom screen this year, we've had one or two graduates pop in and visit for an hour or a day just to refresh and to be back in the community. That's one way they stay connected.
We also have an alumni Facebook page where a lot of our graduates interact and share ideas and commiserate about problems they're having with technology or something.
We also have an annual reunion (last year that was a virtual reunion) where people can come on and just connect with all of their Yoga Assets cousins from all the other programs.
It's a big, beautiful community and it just keeps growing. I love being involved with them so much.
Michael: Two things stand out to me in particular.
If you're hearing this, and you have any hesitancy to begin a program that is "live" online, you should now be at ease.
Denise just said that you can re-engage with an inperson training, at any time. You can come back and revisit an entire program.
As we evaluated the pros and the cons - the cons being that maybe you can't be there for a hands-on assist, that opportunity is not gone.
Secondly, a $200 program that is based on videos and books will not have a tight-knit community. And you'll have a very slim chance of finishing the program without one.
Should you ever want to lean on someone, Denise is there as a mentor. Your fellow cousins or students that have been through the programs are also there to lean on, and what a valuable resource that is.
That sounds wonderful.
Your price is just under $2,000, I think you're at $1,995 for a 200-hour program. Are there any other fees above the $1,995 people should be aware of?
Denise: There are six books that we require for the 200-hour, and a lot of our students have found those on the used websites. They are likely under $100 if you get them that way. If you purchase all of them new, I believe it's $145 for all six books.
Michael: Okay, so we're talking under $2,200, depending upon how you buy your books.
You have a 200-hour and a 300-hour training program.
It's another area that I think is a little confusing for some people because they'll see it advertised as a 500-hour program. I think in your case, you call it the 300-hour bridge (you have to take the 200-hour first).
Tell the listeners a little bit about the difference between a 200-hour and a 300-hour program, and in total, how do they work together? What does that mean?
Denise: With Yoga Alliance, they offer two designations.
There's a 200-hour RYT, that stands for Registered Yoga Teacher, and a 500-hour RYT. A lot of schools will just do the 500-hours start to finish and we do have an option for that, but what we generally offer is a 200 and a 300, and the 200 plus 300 equals the 500.
Our 300-hour program is open to anybody who has completed a 200-hour program, regardless of the source of that training. They don't have to do our 200-hour and that's why we call it the bridge.
We are a bridge program from whatever 200-hour you completed and we lead you to your 500-hour designation.
Sometimes we describe the 200-hour training as going out into a field and digging a bunch of small holes, and in the 300-hour training, you choose a hole and you go deep.
We do offer a lot more in-depth information from a lot of the other styles of yoga; a deeper understanding of the philosophy of yoga, and a deeper study of anatomy.
Our 300-hour students do a community project in that program that is really profound in the way that it impacts our communities and connects our students.
Michael: Tell us about that briefly.
We're referring to a nonprofit organization that Denise and Yoga Assets started called YogaForward.org.
YogaForward.org is doing some fantastic stuff in the community. Tell me a little bit about how your 300-hour program and how it relates to Yoga Forward.
Denise: Our 300-hour yoga teacher training students are required to do a community project because we really want to help a person go from being a 200-hour yoga instructor to being a 500-hour yoga teacher.
To us, that means you're a leader and making a difference in the community.
We have been asking our 300-hour students to choose one of the pillars that we serve through Yoga Forward.
There's the pillar of working with folks who are incarcerated or in the criminal justice system. There's the pillar of our BIPOC community, which is working with communities of color that don't have access to yoga. The LGBTQ community is another area, and working with our local schools and specifically school teachers.
In our last group, we gave all of the students a choice and we had four small groups within the program and they each did a project for a specific pillar of our Yoga Forward community.
They did some really amazing things last year!
Michael: I've heard nothing but great things!
Yoga Alliance has a structure for what the curriculum of registered schools should be.
They also give a little bit of leeway for a certain number of hours. I don't recall the total number of hours, but they give a little bit of leeway for each yoga school to put an emphasis in one particular area.
What is yours at Yoga Assets?
Denise: Yoga Alliance does have the requirement that we have a certain number of hours for anatomy and alignment; a certain number of hours for techniques and training; a certain number of hours for lifestyle and ethics; and a certain number of hours for the physical asana.
We meet all of those requirements, but we double-down on the number of hours required for anatomy.
The reason for that is I believe that 'this body' is such an amazing miracle and the more you know about it, the better you can care for it.
We spend extra time really helping our students deepen their relationship with their physical body by understanding it, giving names to things, and understanding how it works and how to keep it safe.
We feel like that's a really foundational piece that every yoga teacher should have and many don't.
Michael: That's good to know.
Making a decision to participate in a yoga teacher training program can create a little bit of stress in many different areas.
That could be the money. $2,000 is a lot of money, $200 is a lot of money, but I'm really focused on the programs that I know work and so I'm jumping up into the $2,000 category.
Then there is the fear that everybody in the group is going to know more, and they're going to be better at asana than I am. Or, they're going to know more about yoga than I do.
You get into these programs and it's nearly impossible to reverse course. So there's the stress of, "I hope I pick the right teacher" or, "I hope I pick the right school".
That anxiety is real and of course, that's why we're having this discussion today. We're hoping to bring a little bit of clarity as to what the differences are.
What would you say to people who are searching online; evaluating the different programs, and listening to this interview?
What's the next step and how does one have confidence that they're making the right decision, in your opinion?
Denise: The next step is to go to our website, www.yogaassets.com, and click 'Contact'.
I'm going to get an email from you. I want you to include your phone number and your email... and let's just chat.
I would love nothing more than to get on a call with you and answer all of your questions.
The first thing I'm going to say, if you're wondering if the $2,000 is worth it, I'm going to say it absolutely is!
It's $10 an hour. It's $10 an hour for 200 hours. It's an investment in yourself and an investment in your career. Investing in new relationships, and a mentor. I will tell you stories when we're on the phone about people just like you who were worried about exactly what you're worried about and how they came out of this program transformed.
I think that's the first step. Just reach out to me and let me have a conversation with you and I know that I can put your mind at rest.
Michael: That's a personal invitation to answer any question that you have.
You can reach Denise at, the yogaassets.com website. Look for the 'Contact' page, and there's going to be an email form that will get directly to Denise.
Of course, you'll respond swiftly. I've seen that, I know that she does.
Denise: I'm an email freak. I like to empty my inbox. Yes, I try to do 24-hour turnaround on my communications.
Michael: We've got this $2,000 price tag. You offer financing for people who need it, right?
Denise: Absolutely.
Michael: That's not prominent on the website, but if you are in a position where money is an issue, do not let that be a barrier for getting started.
Just drop Denise a note, let her know what your needs are and she's going to find a way to work with you.
And before I forget, if you have not already done so, you can go to the Yoga Alliance website and review student comments for every school that you are evaluating if they are a registered Yoga Alliance school.
By all means, get over and check out Yoga Assets rating on Yoga Alliance. They are one of the highest-rated schools in the United States with more than 200 five-star reviews.
If you are interested, I'm sure Denise would even connect you directly with some former students as well.
Denise: Absolutely, and our students would love that too. It really is family and they would just be really happy to answer anyone's questions. Especially if you have a condition or a concern.I know that I could connect you with people who have the same issue or the same concern and help walk you through it for sure.
Michael: Excellent.
Folks, what we intended to do today was bring a little clarity to questions that you could be asking yourself or that you might consider asking other yoga schools that you're evaluating.
We hope that you've taken something from this conversation today and in the end - you move forward, do something; do something for yourself!
If you're not moving forward, you're moving backwards. There is nothing more beneficial than investing in your personal well being.
The fact that you're listening to this conversation, you likely have an understanding as to what the benefits of yoga are, especially within your own life.
Go get it. Make it happen. Don't sit on the fence and don't be hesitant. Just begin.
Remember, if you finish Denise's program and feel like you need more clarity and understanding, go back and revisit the program for free at Yoga Assets. Stay engaged.
This is a wonderful opportunity. We hope that we've given you enough information to at least move yourself forward one way or another.
Denise, thanks for your time today. If we come up with more questions, we'll add them to this series.
Denise: Final word. I just want to say to anyone that's listening, just thank you. Thanks for taking the time to listen to this, for giving us the courtesy of your time. We know how valuable that is, and we know what a big decision this is.
We really are here to change the world and we do that by helping you change your world. We're very passionate as you can probably tell, about what it is that we do. Just thanks for taking the time, clearly you have an interest in it.
We hope that we can be part of your journey moving forward.
Michael: What do they say, Denise?
Denise: [laughs] Namaste!
Michael: Thanks for joining us.
[00:56:23] [END OF AUDIO]